Grana Padano DOP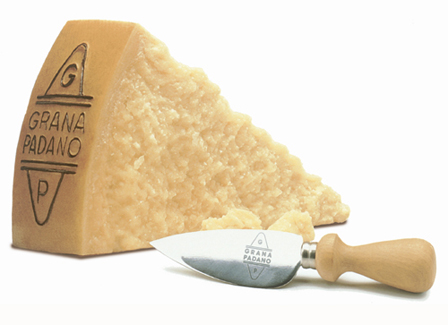 It seems that the origin of the cheese-grained, so named for the graininess of pasta, dates back to the beginning of the second millennium when the Cistercian monks of the Abbey of Clairvaux began to produce it to store excess milk.
Its great capacity of storage at different temperatures and its unmistakable flavor favored its development and spread, so that the practice of turning milk into Grana soon became a mainstay of the agricultural economy.
Grana Padano DOP is a semi-fat hard cheese, cooked and slow maturation; product with clot acidity of fermentation, dairy cow whose power base is made up of green fodder or preserved, from two daily milkings, rested and partially decreed for surfacing.
Is produced throughout the year and is subject to a seasoning that lasts from one to two years.
The production of Grana Padano purely Piacenza covers about 12% of the total production of Grana Padano with an annual average of 500,000 forms.
A production of great value, in the more than four million forms the entire Consortium, also because most of the manufacturers of the Piacenza area has adopted a system that certifies all the way to die.
So if the shape is still whole when you buy the Grana Padano, it is good to make sure that the code that shows both the Pc of Piacenza.
immagine tratta da www.inpuntadiforchetta.com