Stracotto di Asinina
Stracotto di Asinina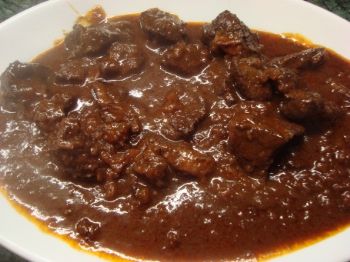 SautÚ in a clay dish a nice piece of butter with half sliced onion, a gabo celery, a carrot and sliced mezz'etto of chopped bacon.
Add the piece of meat (preferably ganassino internal, less stringy and more compact than the external one) battened bacon, just turn occasionally with a wooden spoon, taking care not to break it, as long as it will be very colorful, then moistened with a glass of red wine and a spoonful of tomato sauce.
When the sauce has reduced, add water to cover the meat and let it simmer in covered casserole, possibly putting more water if the fund were to dry. The casserole is best if you cover with an old plate full of red wine is not sweet dish that will definitely ruin and that can only be used for other types of cooking.
Cooking can last from five to six hours for up to three to four days. When cooked, the meat will be presented in rich brown color, soft and slightly chewy.
The stew is served hot, not in slices very thin, possibly accompanied by polenta; finely chopped serves for the filling of anolini.