Trippa alla Piacentina
Trippa alla Piacentina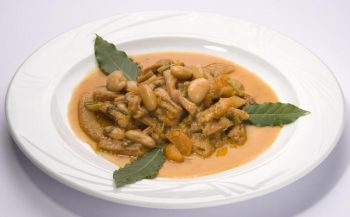 Clean and wash several times tripe. Blanch for a few minutes in a saucepan with the onion, celery, carrot, bay leaf and flour.

Drain well and cut the tripe into strips.

Put the bacon in a pan and adding chopped vegetables and garlic previously used.

Add the tripe, the butter, the 'oil, sage and bay leaf.

After a few minutes add the white wine and let it evaporate.

Then add the tomatoes and broth, then cover and cook over low heat for about 4 hours.

Ten minutes before the tripe is ready add white beans, previously boiled.