For golf lovers and to the Châteaux Trebbia
The Wanderer from the farm two paths for two different days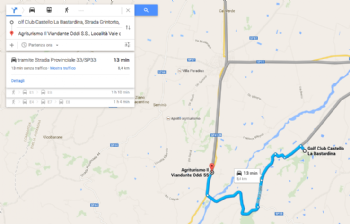 The first route leads visiting the Golf Club La Bastardina and is, of course, an ideal stop for all fans of the game of Golf. It is a path that alternates varied holes uphill (the 1, 6 and 9), downward (the 2 and 4), along the upstream of the hill (the 3) and with green raised (the 5) , all surrounded by woods of oak and chestnut, with a beautiful castle that dominates the landscape.
And 'common to see through some fairways by deer, foxes, hares, squirrels and wild boar, in a surreal silence and rewarding at the same time. The center can be reached in just over 10 minutes' drive.
A second route instead provides several stages that are closed loop for a total of about 50 km that you cover in just over an hour by car and motorcycle.
It 'very interesting to go by bicycle as it is not too beaten roads and particularly attractive from the environmental and landscape.
The route rises immediately, after a short stretch along the SP 412, to the beautiful town of Montecanino, after passing Casaleggio, then to nearly 500 meters above sea level, immersed in the beautiful valley Luretta.
Through the SP 33 comes down to Agazzano, with a visit to the center and its historic cultural emergencies.
Next stop is Gazzola, from where you can reach the castle of Rivalta, fine example of ancient fort of Trebbia.
It falls along the SP 7 along the river Trebbia, you exceed the loc. Tuna where you can stop at the lakes of Tuna for a rest and then continue towards Gragnano Trebbiense and then Borgonovo Val Tidone, with a stop to visit the fortress and the old town.
Finally return the Farm Il Viandante on the SP 412 for a pleasant day in history, environment and culture.
per info 0523.860014 - 347.0733443