La Pietra Parcellara
Nature trail in Val Trebbia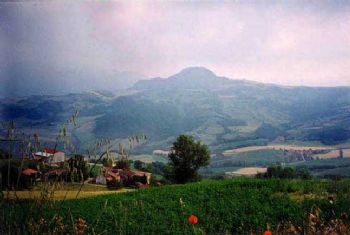 Immediately upstream of the Stone take a comfortable cart that leaves the main road, on the left side, at an altitude of 675 meters.
After a few minutes you cross a small stream, one of many, who take speed downstream.
After crossing the stream, you can admire the imposing silhouette of the Parcellara.
The mountain emerges from the thicket below sudden, tearing the sweet morphology of the clay surrounding almost had been projected in that position by a centrifugal thrust coming from inside the earth. Resuming the journey and approaching the base of the stone is more frequently found large blocks of dark rock scattered along the path and through the woods, the result of rockfalls that constantly affect the steep and fractured rock mass.
Reaching the ridge crosses the path n. 169 of CAI, which will follow on the left; and after a few steps you can reach the oratory of the Stone Parcellara and following an arrow is red and white numbered begins the path leading to the top.
After a steep climb, reached the south-west, the trail continues with less slope to the village of broth to 652 mt. share.
Arrived at about 810 mt. to share, you have to pay attention to a recent landslide collapse that has occupied with his bulky debris on the track, but in return, allows good comments on lithology not altered.
Finally at the top, you follow a few meters along the ridge, along a marked depression, to arrive at a grassy area where it is comfortable and conducive to rest.
Taking the path along the ridge, you follow the CAI and about 810 mt. share it tramples a limited outcrop crumbly, white, in stark contrast to the surrounding rock hard brunorossastra.
The descent continues steep and got to the saddle with the Stone Marcia, you leave the path n. 169 to take the right path always marked white and red; until reaching the oratory of the Stone Parcellara, from where you will trace the initial section of the path until you come back to the starting point.