Piacenza to see: Piazza Cavalli
takes its name from the two equestrian statues in bronze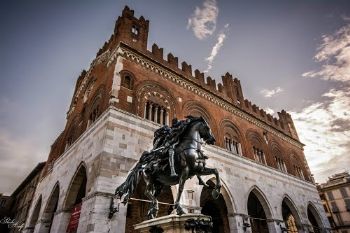 The square, once called Piazza Grande, owes its name to the two bronze equestrian statues that stand little Clear: from the front of the Town Hall.
The ancient and picturesque area overlooking buildings from different eras dominated by the imposing public building, the famous and beautiful Gothic Palace, which opposes the Governor's Palace.
Fascinating scenic backdrops that, in common architectural severity of the sum, are a counterpoint to the exuberant masses of the two bronze statues created between 1620 and 25 by the Tuscan sculptor Francesco Mochi (1580-1654).
The two equestrian statues, depicting with the styles of the Baroque emphatic Duke Ranuccio Farnese and his father Alessandro, were commissioned by the same Ranuccio already in 1612 on the occasion of the baptism of the child that should have occurred just in Piacenza.
Only in the 20th, however, the Mochi, punctually documentatosi on similar subjects already treated by Donatello in Padua and Verrocchio in Venice, gave body to the statue of Ranuccio, representing it in Roman costume and with the scepter in his hand, and five years later concluded that dedicated to Alexander characterized by an energetic rush impetuously that inflates the mantle of the Duke.
Even the reliefs on the sides of the bases of the two sculptures were executed by the Tuscan (1625-19), who assigned it to the monument of Ranuccio the allegorical representation of Peace and Good Governance, and the father the Assault of the city of Antwerp (1584) and Alexander receiving the ambassadors of Queen Elizabeth (1587) in memory of the qualities of a talented leader of the Duke, and the governor general of Philip II of Flanders.