Sweet Tradition Piacentina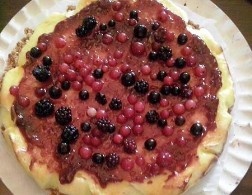 Among the sweets piacentini find many apple pies, chestnut flour, plum, almond, potato, the turtlitt Lenten, the crunchy nuts, pretzels, but especially the donut that is the classic sweet Piacenza.
Consumed, of course, after the meal but also for breakfast or, if there was time, a snack and in this case was accompanied with a glass of white wine, preferably a Malvasia.
The bŁslan Piacenza is a donut housewife easy to find in the markets of Lower or in bakeries and pastry shops and the typical road along the Po.
Latte in Piedi

Put 1/2 of the milk in a saucepan and add gradually 200 g of sugar, 100 g of flour, 100 g of dark chocolate, 100 g of butter .....

Sgonfietti

Boil water with the butter and a pinch salt, add the flour, stir and cook for about 10 minutes. Remove from heat and let cool always ...