Tortelli di Farina di Castagne
Tortelli di Farina di Castagne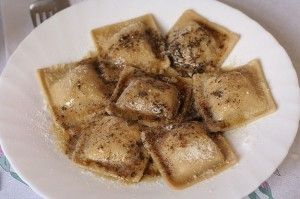 Boil the chestnuts in plenty of water with a pinch of salt and bay leaf for about 40 minutes, then peel, Privatel the skins and mash the food mill.
Stir in 1 tablespoon of olive oil, 40 g of grain and salt to taste; mix well until dough is smooth.
Prepare the dough:
Sift together the flours on a work surface, formed the fountain in the center and shelled eggs; processed ingredients first with a fork, then with your hands, until the mixture is smooth and homogeneous.
Roll out the dough on a floured surface into a thin sheet and cut into wide strips 8-10 cm; you have the center of each of the piles of filling at a distance of about 4 cm, then fold the dough in half, carefully welded edges by pressing the two layers of dough around the filling, then obtained the tortelli with a cutter.
Cook the ravioli in boiling salted water and drain them; transfer them to a bowl, toss with 3 tablespoons of oil and the remaining parmesan and serve.