Pacifico Sidoli
belonged to a family of artists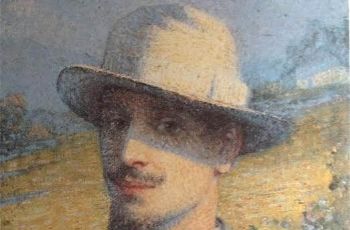 Pacifico Sidoli, was born in 1868 in Rossoreggio of Bettola, belonged to a family of artists, his brothers were Nazzareno and Joseph.
He acquired a reputation through the stretch and loose end that he used in his work, he studied at Gazzola of Piacenza and Pollinari Bernardino was his teacher.
Young, was reported by local newspapers for the activity of restorer. In 1892 he had his first public commission, for the church of St. Euphemia Piacenza performed the "S. Folco Scotti ".
He also painted the portrait of Bernardino Pollinari, purchased Institute Gazzola his death.

As a young man, (around 1900), he went to Paris where he exhibited with Previati and Segantini to Salons, his pastels and watercolors were well received and collected.
He became a popular portrait painter, thanks to its ability to interpret the subject and enhance their personality without ever using strong tones in the painting.
He held many solo exhibitions in Paris, London and Strasbourg, he participated in the Venice Biennale in 1912 and these were occasions to get commissions by personalities from various social.
He painted in 1913 in Piacenza, also in tempera and fresco, the ceiling of the building of the Bank of St. Anthony Catholic now the Central Post Office. Many of his works are preserved in the various public and private collections.

Many of his works are to be reported, among his school work include a "Saint John" and a "Paggio of 500" (1891) kept at the Institute Gazzola, Piacenza in the headquarters of the Cassa di Risparmio di Parma e Piacenza is exposed "Our Lady of Peace" (1918) and at the Galleria Ricci Oddi the portrait of the art critic "Luigi Fassi" (1904), who wrote a lot and with honors from Pacific Sidoli.
Remember that self-portraits documenting the whole of his life. Among the altarpieces have to mention the "San Gallo healing a child possessed" (1895), in the abbey church of the Monastery Val Tolla, and the Assumption (1903) in the Cathedral of Stradella.
With his final return to Italy, in 1930 in Milan, he opened a studio popular with admirers and merchants, in the 60 back in the hometown where he died in 1963.
The Galleria Ricci Oddi, in spring 1996, he dedicated an anthology accompanied by a catalog that can be considered a real monograph.